---

Ethnic Music Archive is a source of information for researchers, musicians and traditional music lovers. The collection consist of films, audio recordings and photographs, both archival and contemporary. Established in 1980 by Andrzej Bieńkowski, archives include movies, audio recordings and photographs from Poland, Ukraine and Belarus. These and all other items collected and produced during his work are deposited in the foundation.
Systematically, the documents are organized and described, photographs scanned, movies digitized - starting with the oldest and most fragile. Fragments of "raw" films from field recordings are available online - on the website www.amw.org.pl, where archival photos and playlist of music from the archives can also be found. The project is supported by various grant programs of Ministry of Culture and National Heritage.
The Ethnic Music Archive website is a part of the project, with its aim to digitize the collections of Music Lost/Found Foundation. The practice is organizing and describing documents and files, scanning photos, digitizing movies. Taking the systematic approach, we start from the oldest artifacts, that are at most risk. A large part of our photographic collection is already available on the archive website and will be complemented by sounds and films. Please see also the foundation website, where fragments of digitized movies and music can be found.
STRUCTURE OF THE ARCHIVES
MATERIALS AVAILABLE ON THE WEBSITE ARE DIVIDED IN THE FOLLOWING MANNER:
- by the type of collection - photo and audio files
- by the location - regions of Poland, Ukraine, Belarus
- by the subject - photos are tagged with the keywords:
ANNUAL RITES
FAMILY RITES - WEDDING
OTHER FAMILY RITES
MUSIC
PEOPLE
VILLAGE LIFE
SOCIAL LIFE
RELIGIOUS LIFE/RELIGION
TRANSPORT
MILITIAMEN
ARMY
HOLOCAUST
- audio materials organized by the albums of origin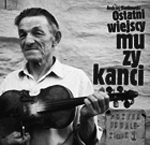 The Collection
The collection consists of movies, audio recordings and photographs, both archival and documentary. Andrzej Bieńkowski created the archive in 1980 and is continually supplementing it ever since. These, and all other items collected and produced during his work, are deposited in the foundation.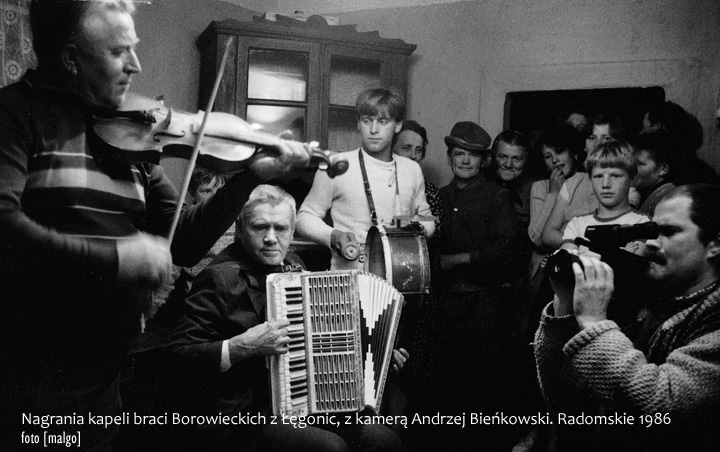 Recording of Borowiecki Brothers' Band from Łęgonice, Andrzej Bieńkowski with a camcorder, Radom region 1986. Foto [malgo]
Resources:
PHOTOGRAPHS
1. archival photographs from villages/3,5 thousand paper prints - open collection
- photographs grouped by the regions: RADOM, GRÓJEC, OPOCZNO, LUBLIN, RAWA digitized and published online under the project in 2012 (1800 photos in database, 1700 available online)
- photographs grouped by the regions: ŁOWICZ, ŁÓDŹ, RZESZÓW, SIEDLCE, OTHER (REGIONS), UKRAINE, BELARUS digitized and published online under the project in 2013 (675 photos in database, 644 available online)
- other photos digitized and made accessible regardless of the grant programmes
2. photographs taken during recordings and field work of Andrzej and Małgorzata Bieńkowski
- 180 colour slides from the years 1980-1981 - closed collection
- app. 3 thousands black-and-white photographs (negatives + paper prints) from the years 1980-2002 - closed collection
- app. 5 thousands colour photographs (negatives + paper prints) from the years 2002-2012 - closed collection
- digital photographs from 2005 - open collection
AUDIO TAPES
- Compact Cassette (CC) tapes from recordings and field research dated 1975-1996 - app. 400 hours - closed collection
- soundtracks from video tapes - from 1985 - open collection
Audio collections published in the series of books with CD's by MUZYKA ODNALEZIONA. Available on SOUNDCLOUD. Playlist on the publisher's website: www.muzykaodnaleziona.com
Audio fragments from the publisher's publications are available on the Village Music Archive website (financed from the subsidy programme Kolberg 2014 Promesa)
VIDEO TAPES
- VHS tapes from the years 1985-1997 - 195 hours - closed collection, digitized partly within the project in 2014 (financed from the subsidy programme Kolberg 2014 Promesa)
- Hi8 tapes from the years 1996-2001 - 122 hours - closed collection, digitized under the project in 2012
- DV tapes from the years 2001-2006 - 187 hours - closed collection, digitized partly within the project in 2013
- HDV tapes from the years 2007-2013 - closed collection

Fragments of the movies are available on the foundation website www.muzykaodnaleziona.pl, our YOUTUBE profile and films at the website NINATEKA
About Foundation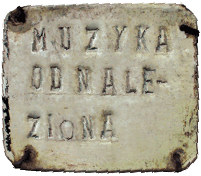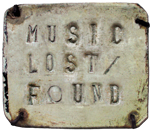 The MUSIC LOST & FOUND Foundation was established in 2012, out of fascination and respect for traditional village music. We act against exclusion of this music from the culture cycle. Digitizing, handling and popularization of collections deposited in the foundation is one of our statutory goals.
foundation
publishing house
---
Andrzej Bieńkowski (born in 1946) painter, ethnographer, professor of the Academy of Fine Arts in Warsaw. From 1980, during his expeditions to the villages he builded up an impressive private ethnographic archive containing thousands of audio recordings, videos and photographs from Poland, Ukraine and Belarus. An author of films about village movies, books: The Last Village Musicians - People, Traditions, Music (Prószyński i S-ka 2001, Music Lost&Found 2012), Sold Music (Czarne, 2007), 1000 Kilometres of Music. Warszawa-Kiev (MCKiS 2009), and publications in the Muzyka Odnaleziona series (Muzyka Odnaleziona - publishing house & music label, from 2007). Laureate of Oskar Kolberg Award in 1995 and Cyprian Kamil Norwid Award in 2008. In 2010 he also received an annual award of "Nowe Książki" journal for 1000 Kilometres of Music.
*Nowe Książki (New Books)- is the best-known and widely available journal of new publications in Polish language, published by the BOOK INSTITUTE.
CULTURE.PL The Folk, In Other Words, The Slaves: A Talk with Andrzej Bieńkowski
Poland, 1980. Communism is facing collapse. Petrol is being rationed, the shop's shelves are empty. I begin my quest through the countryside to record village music. The situation is strange ? there are many bands, but nobody needs the music they play, both in villages and in towns. Musicians are selling off instruments, they cease to play... Slowly, they go into oblivion. It was the main difficulty ? to find instruments for them. I met musicians who used to play together at weddings, but haven't done so for years. We recorded at their homes. It was the last generation.
We recorded about 1 500 musicians and singers. The archive contains recordings of the oldest types of village bands, as well as contemporary wedding music. Thousands of field photos. And a jewel of our collection - pictures taken by the first village photographers capturing weddings, parties, funerals, everyday life...
Andrzej Bieńkowski
THE MYSTERY OF MAZURKAS
Sure, I've known Chopin's mazurkas since childhood. But I've always had a problem with them. They seemed too refined, too sweet, too similar to waltz.
The village-style mazurkas, which I became fascinated with much later, were expressive, played with tremendous power - aggressive, and yet sentimental.
I once asked a fiddler from the Rawa Mazowiecka region: "Could you please sing an oberek?" And he looks at me with surprise: "You can't sing an oberek, only mazurek". "Why is that?" I asked. "The melody of oberek is more intricate, not for singing, and you can't prolong the sounds, play rubato".
I was astonished. Polish literature on village folklore was full of descriptions like: "...he sang an oberek and dashed madly for the girls to dance". I was brought up on this. Yet it had little to do with reality?
It was even more suprising to find out that the rhythm of mazurek is actually the rhythm of work! Traditionally cereals were threshed and cabbage was chopped in the rhythm of mazurek (that's why all village people used to be able to play the drum and the bass), musicians often played at harvest, to make the reaping easier.
Although mazurek comes from singing, it is strictly dependent on dance - the musician had to prolong phrases and add ornaments, but if he lost the rhythm, he could be kicked out of the wedding. Or even find himself on the wrong end of a beating. Mazurek was no laughing matter. But the fiddler could have his revenge too, because the dancers had their tap-dance solos, and if they did them against the mazurek rhythm, the musician could turn his back to them. That's a terrible affront. The village would talk about it for years.
No other dance aroused such euphoria in dancers and got musicians into such a trance. It also inspired expressive singing. Almost every village had its own mazurkas (or rather its own manner of playing them), which served as a village logo, easily recognizable to all.
July 2008. I am in the Roztocze region. Fiddler Stanisław Głaz, says: "You know, these mazurkas were played differently in every village". I ask him why. "Because every fiddler played according to regional speech accent. In the area of Dzwole the speech is prolonged, but in the next village it is shortened, so the fiddlers don't lenghten their melodies like here". "And how were mazurkas ornamented?" Everyone had his own method of ornamentation. I listened to the birds - nightingales and skylarks, and then played their trills in mazurkas", replies Głaz.
This important testimony shows where the abundance of mazurkas and their different interpretations has come from. The wealth of mazurkas has also sprung from the multitude of short songs - ditties accompanying them. They made it easier to remember the melody.
Our problem is what to do with the village mazurkas? It would be easiest just to ignore them, like it has been done until now.
It is much easier and safer to go into raptures about Chopin, whose music is simply beautiful. But what shall we do with this neglected geniuses: Meto, Kędzierski and Bujak? Are they inferior only because they come from villages?
I know it sounds like an overstatement, because I confront them with a world-famous music giant. But let's think about it - from their music came this mazurkas transformed later by so many composers. It came from them...
There is one more difference, perhaps the most crucial - the mazurkas of Szymanowski, Chopin and other "masters of notation" are written down and can be taught at schools and performed any time. The mazurkas of Meto or Kędzierski are passing away together with the men. Nobody will be able to play them in the same manner, the power of their originality is so great. It is also worth to remember that mazurkas are improvised, like jazz. A theme is given (that's the function of ditties), and then the musician improvises on that melody. I once heard an improvisation on the theme of a short song, which lasted about 40 minutes!
We have a long road to travel before we understand the mystery of village mazurkas. Probably the most important thing is to learn how to play them. It is an extremely difficult task. But there is hope. In spite of all the difficulties, young people travel to villages and learn the mazurkas from the last village musicians ? more and more of them. For them this music is not a means to an end, nor a way to career in show-business - they learn like the old-time musicians used to.
This is where the hope for this music's survival lies.

Andrzej Bieńkowski, 2008